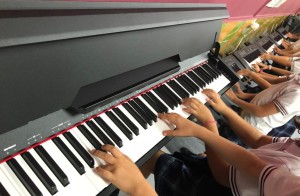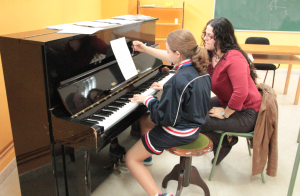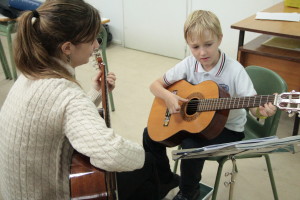 Music at the SABS is flourishing. We believe in 'music for all' and aim to provide music opportunities well beyond the classroom. There are many high quality music ensembles in which your child may participate. In addition, students are encouraged to form their own future bands. Lunchtimes in the department are a hive of musical activity, individual or groupal lessons being taught in preparation for concerts or performances.
SABS offers a wide variety of individual and group musical tuition. We teach music in all its forms, from Classical, jazz, rock, pop, musical theory, singing and reading music. If there is an is an activity you do not find provided, we can look into the possibility of offering that musical tuition.  Children are able to work towards musically recognised exams.
We offer: Piano, Guitar…
Current music opportunities are available across all ages and year groups including:
Piano
Classical Guitar
Electric Guitar
Drums and percussion
Electric Bass
Violin
Violoncello
Flute
Vocal Technique
Choir
Orchestra
Drama
English Musical Theatre
Our dedicated teachers are all professional musicians who are passionately committed to inspiring and developing young performers.
Numerous instrumental lessons take place each week with visiting specialist music teachers. Many students take lessons on more than one instrument.

Student performers are featured in many organized school activities. Talent is often showcased in theater productions, recitals, and concerts in school. In addition, music is a regular feature in assemblies and celebration events.
Registration for all extra-curricular activities is carried by the School Office at the beginning of the academic year. Ms Laura Ganly and Mr Jorge Díaz are the SABS Music School Coordinators.
Students who arrive at our private school in the course of the year, after the September enrollment, should write to: secretaria@santoangelbritishschool.es to enroll individually for activities.